Continuing the long term relationship with PRG Mexico and promoters OCESA, NoNonsense Director Steve Richards and the team supported PRG Mexico in delivering two Roger Waters shows at Foro Sol Mexico City and one at Zocalo, also in Mexico City. With only one production day between shows, two complete stages had to be provided.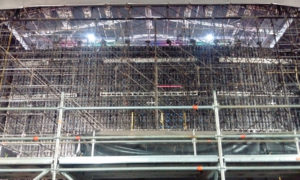 The team worked closely with the client, the show designer and their engineer to ensure this epic show would be a huge success. The 80m video wall provided a number of challenges as they could not be derigged in bad weather so the stages had to be capable of taking an area wind code in excess of 30 metres per second. A suitable engineered solution had to be found which also conformed to the designer's criteria which resulted in more than 300 tonnes of ballast being used along with a bespoke flying system for the screen.

Lasers played a huge part of the show and precision placement was essential.