For 4 years, the sleepy village of All Cannings has played host to 'Rock Against Cancer', a charity concert hosted at The Kings Arms. This wonderful event sells out each year even before the full line up is released…2015 welcomed Squeeze, Lindisfarne, Sweet, Howard Jones and The Animals and Friends. NoNonsense built two stages this year with local bands invited to play on the Sennheiser sponsored B stage in between acts on the main stage.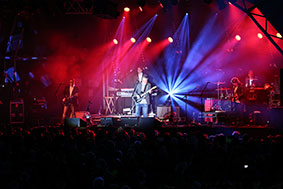 "May we thank all the crew at NoNonsense for all your support for 'Rock Against Cancer' over the year…it would not have been possible without your tremendous help."
Plans are already well underway for 2016 so put 21 May in your diary so not to miss out on an exception day out and all for a worthy cause.
Photos: Marcus Ward