These two iconic events took place only a day apart so the steps at the Royal Albert Hall played host to two welcoming carpets – one red and the other blue! Both of the events took place outside the Royal Albert Hall.
The initial build saw the installation on a Layher stage with the NoNonsense decking system. Placed beneath the stage were two tower bases which would come in to play for the second event. In the wells alongside the steps two stepped platforms were built ready to house the lighting towers which would be installed for the premiere.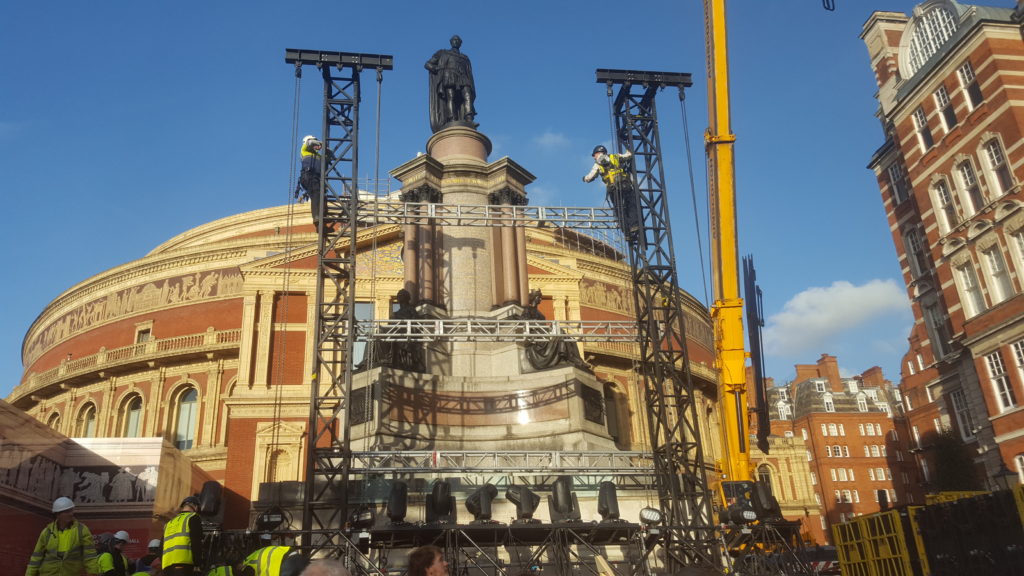 The Fashion Awards took place on Monday 10 December and Tuesday morning saw teams of people working to transform the site ready for the premiere which was to take place on 12 December. The stunning sculpture which has become the symbol of the Fashion Awards was craned off the stage and the red carpet removed. The deck was then lifted to reveal the tower bases allowing the towers to be craned into place. The header bean was then installed and clad by Scena before being lifted for the video screen to be installed by CT.
The premiere went all-out in transforming the Royal Albert Hall into the iconic Cherry Tree Lane from the upcoming film, which is based on the famed 1964 musical adaptation of PL Travers' Mary Poppins stories. A long blue carpet, flanked by street lamps and flourishing pink cherry blossoms, led up to the entrance of the concert hall – which had been turned into the house from the beloved film – in the perfect homage to the 1930's London setting.